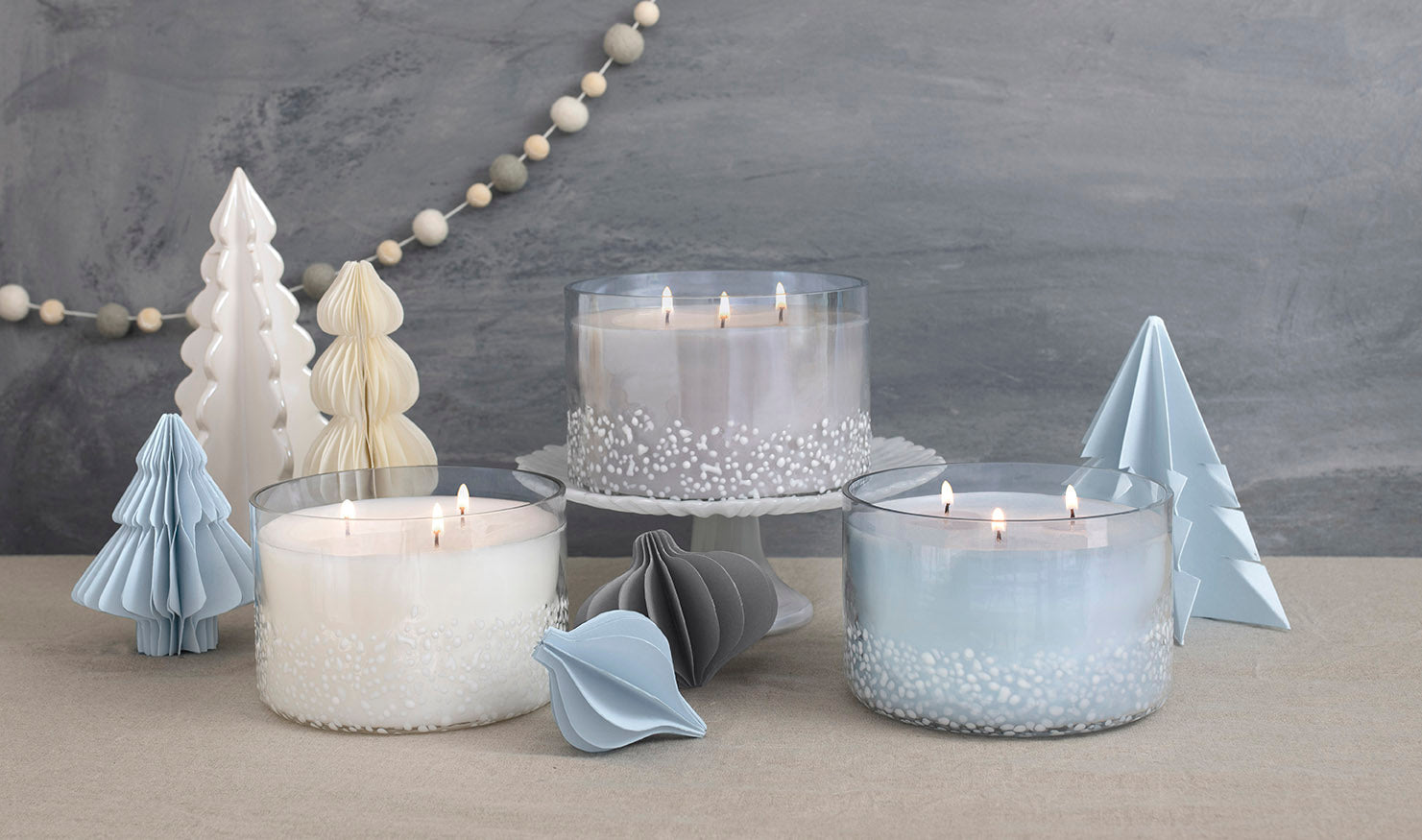 New! 2020 Seasonal Product
The 2020 Catalog has expanded to include 3 new candle lines.
Here's the inside scoop!
Confetti
Striking hand-blown glass with innate confetti colors and a rustic gold foil finish. Filled with cozy fragrances that will complement any occasion throughout the season.
 
Product Details:


Burns 50 Hours | 

13 oz candle
About the Fragrances:
Birch & Silver Spruce: Spruce boughs & frosted pinecones with cedarwood & juniper roots
Sweet Orange Spice Tea: Black tea with dried orange peel, candied ginger & passion flower

Cedarwood & Cinnamon: Cedar needles & sage leaves wit rosemary & cinnamon bark
Vale
Whimsical, hand-blown glass decorated with a snowy innate texture & iridescent finish. Poured with a soy wax blend, sophisticated fragrances and topped with hand-painted illustrations inspired by holiday greeting cards of the past.
 
Product Details:


Burns 80 Hours | 28

 oz candle
About the Fragrances:

Cashmere Ridge: Warm amber, comforting cashmere & shea butter
Woodland Bluebell: Delicate bluebell flowers, winter spiced citrus & white musk 
Balsam & Birch: Fresh balsam boughs with cedarwood & golden birch bark 
Wick Trimmers - New Finishes!
Wick trimmers are an essential tool for candle care. Before burning, every candle wick should be trimmed to 1/4" length to optimize the burn time and minimize the possibly of smoke or soot. Our top-selling wick trimmer features a perfectly positioned foot to make that trim simple and easy. No measuring required! Additionally, the long handle is designed to extend into jar candles and the heavy-duty metal provides long-lasting use.
About the New Finishes: Bronze (left) and Black (right)