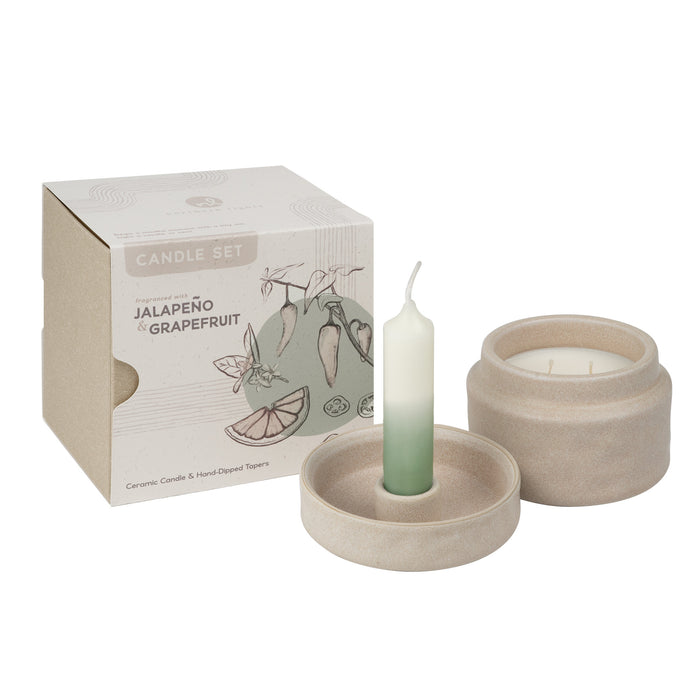 Mindful Moments Candle Set
Pre-order to ship by Jan 1, 2024

Begin a mindful moment with our exquisite candle set, a symphony of scents and craftsmanship.
Unbox this multi-piece candle set and remove the ceramic lid to reveal a taper holder. Light the 2-wick ceramic candle, available in three fragrances – Jalapeño & Grapefruit, Water Blossom & Agave, and Ginger Root & Turmeric. Each candle comes paired with four 4-inch hand-dipped tapers in coordinating colors: Grove Green, Waterfall Blue, and Savanna Gold, creating an elegant display.
Elevate your space with this harmonious union of fragrance, light, and artistry.
Minimum 3 per fragrance
Product Details:
Burns up to 46 Hours
4" 4pk Hand-dipped Tapers
5.25 in x 4.25 in x 5.25 in in Gift-ready Box
Fragrance Notes:
Jalepeño & Grapefruit: Energizing sweet red grapefruit, currant, Valencia orange peel & Rooibos tea infused with jalepeño pepper & smoked cedarwood. Paired with hand-dipped Grove Green tapers.
Ginger Root & Turmeric: Cleansing ginger root, cardamom & lemongrass blended with turmeric, black tea, dark patchouli & myrrh. Paired with hand-dipped Savanna Gold tapers.

Lotus Blossom & Agave: Tranquil water garden blooms of white lotus & lily mixed with bergamot, blue agave nectar, jasmine & vetiver. Paired with hand-dipped Waterfall Blue tapers.