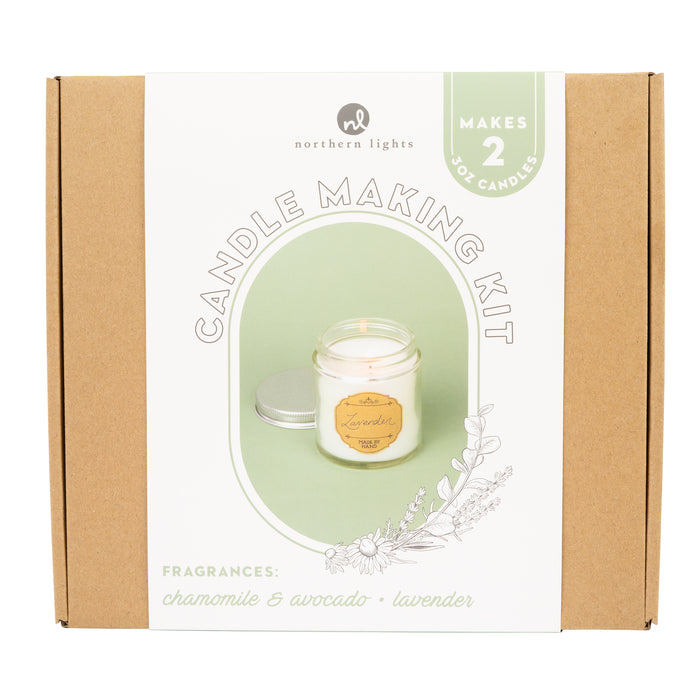 These all-in-one DIY kits include the essential components necessary to make candles or wax melts. Easy-to-follow instructions take out the guess work. Gift the experience of candle making to friends or family this holiday. Homemade candles make great gifts!
Minimum 3 per style
Product Details:
Soy Wax Blends
Box Dimensions: 10.75 in x 3 in x 9.75in

Fragrance Notes:
Lavender: Lavender & crushed chamomile blended with soothing purple willow bark & white tea leaves.
Chamomile & Avocado: Fresh avocado fruit, eucalyptus & light floral notes.
Whiskey & Tobacco: Barrel-aged Kentucky whiskey blended with ginger & cardamom spices with base notes of tobacco leaf and crushed tonka beans.
Blackberry Brandy: Barrel-aged brandywine with ripe berries, white peach and a hint of island vanilla.

Fuji Apple: Fresh picked, crisp red apple with subtle notes of pink grapefruit, southern magnolia blossom & lily of the valley.
Tropical Vetiver & Grapefruit: Coastal salt air with amber, vetiver, grapefruit & oakmoss.
Jasmine & Patchouli: Bouquets of star jasmine, violet bloom & a hint of crystallized amber and warm patchouli.
Plum Orchid & Dahlia: Sweet blushed dahlia & floral plum orchids, lightened with lemon flower, water lotus, petitgrain & base notes of sandalwood & white myrrh.